Increase Agility and Reduce Repetitive Tasks While Onboarding New, Digital Savvy Agents
One of the biggest time wasters in a real estate office is organizing, tracking and performing repetitive tasks for each new agent. In an industry that's poised for significant change, increasing agility and automating repetitive tasks is critical in redirecting your energy and effort to evolving business needs.
Implementing the right technology enables real estate companies to focus on a coaching culture from day one, differentiating themselves from other brokerages and helping recruit and retain high performing agents far longer.
Automated Onboarding for Real Estate Companies
Your team's tim is better spent on agent coaching, training and deal support, so relying on leading technology like Coach Simple helps automate and sequence the highest priority tasks. At the same time, it's critical to train staff and monitor accountability to deliver high-quality service delivery at every client touchpoint. Automated, clearly defined, and easy-to-administer Action Plans are required.
A key feature in improving agent engagement is Coach Simple Action Plans, which automates common tasks at each stage of the agent lifecycle. Action plans enable real estate companies and their staff to:
add customized client onboarding action plans in a single click
auto-assign action plan tasks to specific staff, managers, mentors and agents
set due dates, email and SMS reminders for any task ensuring key tasks get done
Add an Onboarding Action Plan with a single click

Sample Onboarding Action Plan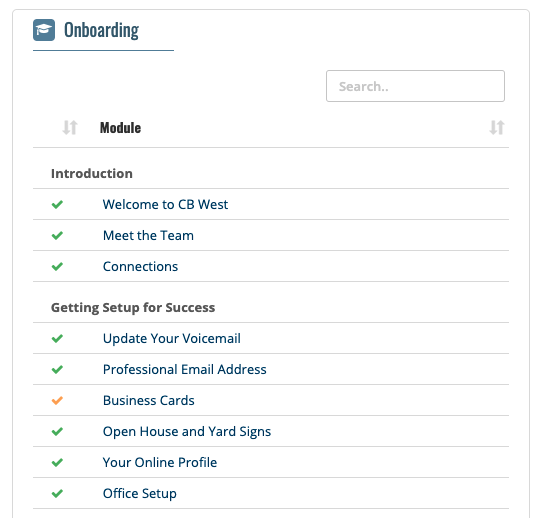 Your Real Estate team's needs and expectations will continue to evolve in the increasingly digital personal and business landscapes. Organizing your team to provide high quality, comprehensive and consistent onboarding will help ensure you generate more retention and results.
Learn more about the key features of Coach Simple Real Estate