Coach Simple integrates with Redtail CRM to help wealth advisors and financial planners work smarter, plan better and close more deals.
Coach Simple empowers financial professionals with:
Detailed Sales Pipeline and Follow-up Task Management
Project Tracking for Onboarding New Clients and Managing Existing Client Work
Engagement and Accountability Tools to Keep Staff and Associates Accountable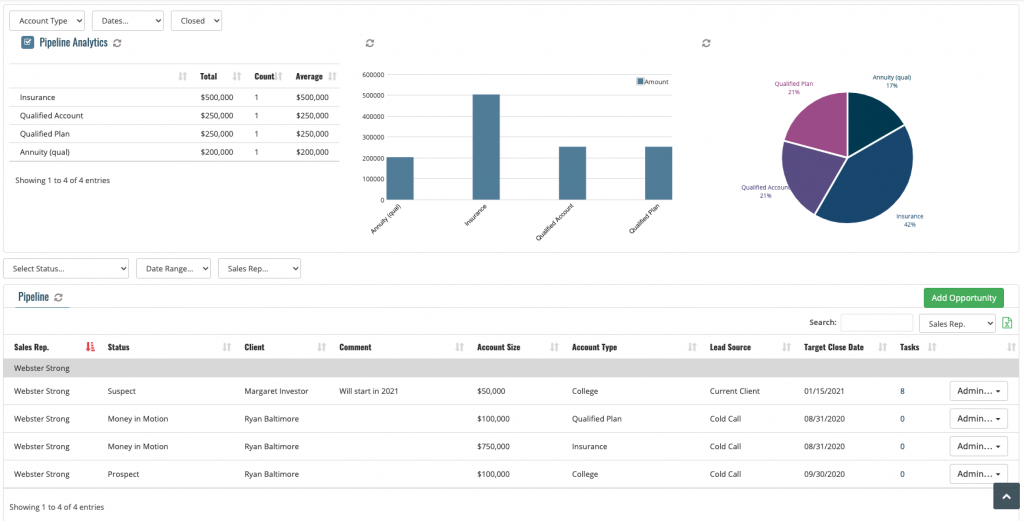 "Integrating with Redtail Technologies award-winning CRM creates an exciting opportunity for Coach Simple to provide Wealth Advisors and Financial Planners with powerful tools to organize pipeline opportunities and seamlessly onboard new and existing customers." says Greg Ausley, CEO of Coach Simple. "Our integration partnership makes it simple for Redtail CRM users to track opportunities, manage onboarding tasks, and ensure their teams are monitoring client onboarding and implementations."
Seamless Integration to improve workflow
Redtail CRM customers link their account in just a few clicks on Coach Simple Finance and can instantly integrate their Redtail CRM account. Coach Simple seamlessly syncs contacts, companies and accounts through a simple interface to manage opportunities, customers and projects.
"Coach Simple changed the way I hold my team accountable and manage my pipeline," says Judson Gee, management partner of JHG Financial. "We review Coach Simple during our weekly team meetings to track projects, ensure team productivity, and most importantly, provide the highest quality service to our clients. Wealth advisors are endlessly busy. Coach Simple is a must to remain effective and efficient.

About Redtail Technology
Founded in 2003, Redtail Technology is a leading provider of web-based Client Relationship Management (CRM), compliant text messaging solutions (Redtail Speak), paperless office, and email archiving solutions in the financial services industry. The company is dedicated to helping advisors efficiently grow their firms by providing them with the core technologies that drive their day-to-day operations, offering low cost and easy to implement applications and integrating with many of the industry's most widely used applications. As a pioneer in the financial technology industry, Redtail is committed to providing advisors exceptional customer service and strives to contribute in meaningful ways to its local communities in California, Arizona, and Georgia. For more information, visit redtailtechnology.com.
About Coach Simple
Founded in 2009, Coach Simple provides executives, managers, coaches, and sales professionals in the financial services sector dashboards and productivity tools to onboard, plan, track and coach their teams. The company is committed to helping sales organizations grow with confidence by providing platforms to scale efficiency, productivity and accountability of teams. A leading coaching and accountability platform, Coach Simple's modules include onboarding, coaching, business goals, sales pipeline, project tracking and learning management (LMS). For more information, visit finance.coachsimple.net.